The Boston Printmakers, New England Edition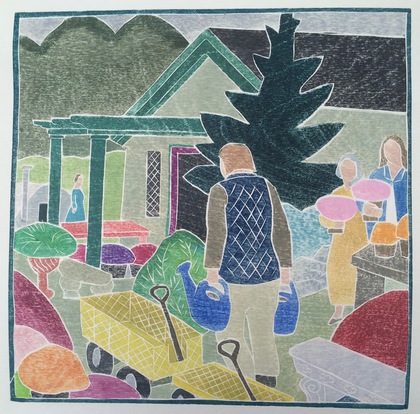 Twenty New England-based members of the Boston Printmakers, including yours truly, will be exhibiting at Francesca Anderson Fine Art in Lexington, MAssachusetts from April 25 through June 2, 2018. I'll be demonstrating my white line woodcut technique on Saturday, May 12, from 2-4 p.m. at the gallery. Registration is recommended: Francesca@PortraitsNorth.com.
---
More News
Happy New Year!
I wish you peace, health, creativity and laughter in 2018.

I'll be teaching a class at ConcordArt in beautiful Concord, MA for 6 weeks, on Tuesday afternoons from 1:30 to 4:00 p.m. beginning on March 13th, 2018. You will learn how to design, cut and hand print traditional white line woodblock and traditional single-color woodcut or linocut, and then mix it up by combing methods, adding monoprint techniques, collage elements, stencils or rolling ink directly onto the paper to create unique works on paper. Students will develop a repertoire of printing blocks to use for creative play throughout the process, and I'll work closely with the students, helping them develop their own personal expression.

​http://www.concordart.org/school/classes#6619

Saturday Morning. White line woodcut. 2017
---
Saturday, October 28, 2017, 1:00 to 2:30 p.m., I'll be giving a free demonstration of my white line woodblock technique at The Artist's Playground at the Tannery Marketplace, Newburyport, Massachusetts. Register at info@theartistsplayground.com

Beginning Saturday Nov. 11, 1:30- 4 p.m. 6-Week Class: The White Line Print at The Artist's Playground, Newburyport, MA. Register at info@theartistsplayground.com

Thursday, November 9, 2017, 7:30-9:00 p.m. Demonstration of White Line printmaking at the Newton Arts Association, held at the Newton Senior Center, 345 Walnut Street, Newtonville, MA. ​


I'll be presenting a workshop at ConcordArt in Concord, MA from June 20-22, 2017: White Line Woodblock Printmaking and Beyond. Come to beautiful Concord and learn first hand about the art of the traditional white line woodcut, from design to cutting and printing. Stop there, if you're a traditionalist, or take it to another level, if you like, by experimenting with creative block cutting and inking methods, adding textured woodblocks and/or stencils for a collage effect, or adding another block, for a multi-layered approach.


http://www.concordart.org/school/workshops#6189
---
The Lamb, my woodcut monoprint (2015) was recently accepted to the 36th Bradley International Print and Drawing show, at Bradley University in Peoria, Illinois. The show will run from March 11 through April 27, 2017, with a Visual Voices Lecture by juror Kathryn Polk, on March 9th.

My white line woodcut, Roof Shovelers, was accepted to the Member's Juried II, on view at ConcordArt in Concord, Massachusetts now through March 26th.
http://www.concordart.org/

I will also be presenting a demonstration of my white line technique at ConcordArt on Wednesday, April 26, 2017, from 10:30 to 12:30. I'll begin by giving a brief overview and history of the development of the medium, and then take the audience through the process of creating a print, from design, transfer of drawing to the block, cutting and printing. I'll also show examples of creative inking, and show examples of white line prints that have been combined with line blocks to create multilayered color images.

http://www.concordart.org/school/demos#5988

Witch Hollow, my small white line woodcut, will be included in an exhibit at the Boston Athenaeum entitled New England on Paper: Contemporary Art in the Boston Athenaeum's Prints and Photographs Collection (April 6 through September 27, 2017). The public is invited for free to the show's opening on Wednesday, April 5th from 5:30-7:30 p.m.

http://www.bostonathenaeum.org/events/4445/exhibition-opening-new-england-paper-contemporary-art-boston-athen%C3%A6ums-prints
---
The Customs House Maritime Museum, in Newburyport, Massachusetts is hosting their inaugural New Perspectives Benefit Art Auction on October 8th, 2016. The museum hosted a visit from the Spanish tall ship El Galeon this summer, and invited artists to create their own interpretations of the ship. This is my new print, a white line woodcut which I then overprinted with a linoleum key block. It depicts El Galeon docked in Newburyport harbor, with the Customs House on the left, and the steeple of the First Religious Society, and very recognizable Newburyport skyine landmark, on the right. The auction will be held in a waterfront tent, part of a gala event at the museum. Tickets are still available!
http://www.customhousemaritimemuseum.org/calendar/index.php?page_function=detail&event_id=426
Monhegan Flower Gardens, white line woodcut 2016
The Print Club of Cleveland is hosting it's annual Fine Print Fair this coming week at the Cleveland Museum of Art. My work will be represented there by Paramour Fine Arts of Franklin, Michigan.

This is an opportunity for the public to visit, learn about prints and printmaking techniques, and purchase fine prints from print dealers who hail from all over the US. The museum uses proceeds from the event to add to their esteemed collection. Please stop by, if you're in the area!

http://www.printclubcleveland.org/fine-print-fair/
---
Kate Hanlon: The Refugees, Woodcut monoprint 16" x 20"
The Boston Printmakers' most recent call for entry for a member's show is for political prints; a broadly inclusive theme which is wide open to interpretation. I don't usually air my political views in my art, but there is a strong tradition of using the graphic media to call attention to social and political issues, and I rose to the challenge. Here is my new woodcut monoprint, The Refugees, and my artist's statement, below. The exhibit will be on display at Lamont Gallery at Phillips Exeter Academy in Exeter, New Hampshire from Nov.1 through Dec. 10, 2016. The show opens Nov. 4, 2016, 5-7 p.m.
The Refugees
Imagine for a moment that our country is at war, within our own borders. Bombs explode in the street outside your door. You fear for your life and the lives of your loved ones. Life as you've known it is now impossible. You must leave in order to survive.
Where will you go?
How will you get there?
Who will you take with you?
What will you take with you that can be carried in your two hands?
If you make it to your destination, will you be welcomed?
Or rejected?
How will you survive in your new country?
There are so many unknowns. So many people suffering inhumane conditions in their countries of birth. We Americans can feel immune from the type of strife that we observe in fleeting media images, but we are not immune. It could happen to us. Saving one life saves us all; we are all part of the same human family.
All in the same boat.
Kate Hanlon
Ada Gilmore, printing block. Courtesy of Julie Heller Gallery, Provincetown, MA
An edition is understood to be the total number of prints taken from a printing matrix, usually printed at the same time. Here is a quote taken from the International Fine Print Dealers Association (IFPDA) website regarding the
numbering
of editioned prints:
"While the
numbering
of individual impressions can be found as early as the late nineteenth century, it did not become standard practice until the mid-1960s. Before steel-facing and other ways of preserving plates for longer print runs, the order in which the edition was printed was important. An intaglio plate, especially one containing drypoint lines, will degrade over time as the pressure of the press will dull the
burr
. As a result, the first impression is often crisper than the last and in turn, the edition should be numbered in order. Today, all limited edition prints should be numbered, and because of advancements in technology and a printer's ability to print reciprocal, identical images, the numbering sequence is no longer intended to reflect the order of printing. Numbering is now transcribed as a fraction with the top number signifying the number of that particular print and the bottom number representing the total number of prints in the edition. The edition number does not include
proofs
, but only the total number of prints in the numbered edition."
This is all well and good, as long as we're talking about editionable fine art prints such as etchings and lithographs. However, white line woodcuts are really quite a different animal. Though technically they are "printed" from a block, each print, having been painstakingly painted shape by shape and color by color, is as unique as a fingerprint. For many years, I worked as a professional printer for other artists of reputation, and my goal was to match a "bon a tirer," (or proof that the artist approved for me to match) to no more than about a 3% variation from the original artist's proof. The goal of white line printing is about as opposite to that as possible! It's all about freedom of expression. The white line prints are more like paintings or monoprints; variation in color and density is cause for celebration, not condemnation.
Considering the unique nature of the genre, I've seen a few different methods of numbering the white line prints. As for myself, I began simply to number each print sequentially (No. 1, No. 2, etc.) that I printed from a particular block. Only recently, a print dealer asked me to state a limit to the number of prints that I'd take from a block, and suggested 25 as a reasonable number. This is driven by the consumer, who wants to know that his investment will not be "diluted" by the possibility of an unlimited number of impressions in circulation. When you think about the amount of labor required to produce one print, however, 25 is terribly optimistic! I've begun to number my prints 1/25, 2/25, etc., but I may not live to complete that number, especially of some of my larger pieces. I'm keeping good records, but I have many blocks, and really am more interested in creating new images than in slavishly reproducing a successful "copy" of an image. Even Blanche Lazzell only produced 4 or 5 prints of each of her blocks. Of course, she didn't have the internet to help market her work, but the point is that she was more interested in variation of color in her individual prints. At any rate, she came up with her own numbering system:
"When the artist began her record book, she devised a unique numbering scheme for keeping account of her prints. Lazzell listed these numerals in her catalogue and wrote them on the woodcuts, often in each of the four corners of the image on the verso of the sheet. The inscriptions have long baffled collectors, since they look like transposed edition numbers. Lazzell's bipartite catalogue numbers resemble fractions. Their first number—in the numerator position—represents the woodcut in the sequence of all of Lazzell's white-line prints, functioning something like a musicologist's opus number. The digits behind the slash—in the denominator position—number the impressions from a particular block. Soon the artist began to inscribe each print in detail with its title, her catalogue number, when the block was cut, and where and when the impression was printed." http://provincetownarts.org/magazine_pdf_all/2004_pdf_files/2004Lazzell.pdf
So, you might see a Blanche Lazzell numbered (on the back) thus: 154/3, which meant that it was her 154th block, and the third print taken from that block. It worked for her. Interesting to note that she often signed her prints within the image, as painters do. "The wood block print has the same rank in art as any other medium or form of expression," she wrote. And I can only agree.
---